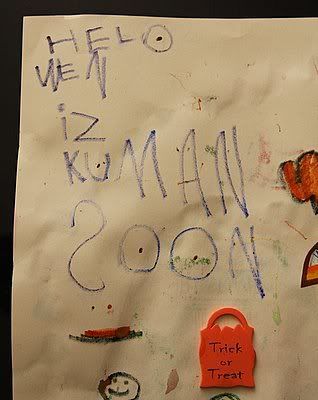 Maybe we should work more on spelling. :) I got out the Halloween stickers and the kids made about a dozen 'cards' - Lizzie made the one above. She loves that (creative) phonetic spelling.
Today we got to play in [our neighbor's] leaves. We kept trying to rake our own, but could only manage about a 6 inch pile of aspen leaves, so the kids were more than happy to help the neighbors (who have no kids at home) rake theirs. And then throw them back around the lawn again, of course.
And of course the (last-minute) pumpkin carving, always fun. Apparently up on top of the table.
These are the kinds of holiday things that I confess to dreading.. but then when they're over of course we all love it and build great memories and all that good stuff.
Good luck to all of us tomorrow...