Tuesday, October 30, 2007
Posted by

Sarah
at 8:28 PM
1 comment:

Happy Baby!
Sad Baby..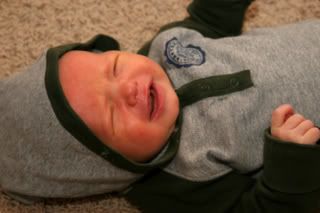 (I don't think he likes that hood..)
Calm Baby
I just love this one.
5 weeks old!
Posted by

Sarah
at 8:20 PM
1 comment:

Monday, October 15, 2007
This time flies by SO fast, but it's so precious - I just want to hold him and look at him all day. (But instead I hold him all NIGHT!) :)
He's getting longer and fatter! Most of his 0-3month clothes are getting too small already..
awwww...
Have you ever seen a cuter face?
A little half-smile.
"How's my hair?"
One of Jason, Micaela, & Lizzie playing on the couch - aren't they cute?
Posted by

Sarah
at 8:29 AM
2 comments:

Sunday, October 7, 2007
Why is it that the last 2 weeks of pregnancy go on for 6 months and the first 2 weeks of the baby's life are over in about half an hour?? So not fair!
William is 2 weeks old already. At his 2 week checkup he weighed 9 pounds 11 ounces and was 23 inches long. (I knew they didn't measure him right at the hospital - so he was more like 22.5 or 23inches at birth..) Anyway, I would like to say that he's sleeping longer stretches here in his old age, but sadly that's just not the case. This adding 10% of your weight per week thing takes a lot of eating to maintain, apparently!
He's still a sweet baby and we still love having him here!
And honestly, I'm just impressed that we're all still alive! That is an achievement.
And now for a pic overload!
Four days old:
Four days old with dad: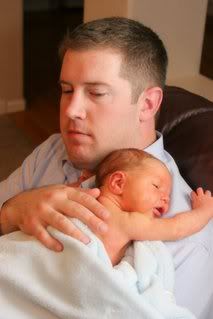 First "bath":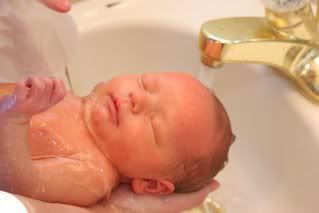 Five days old, with Lizzie: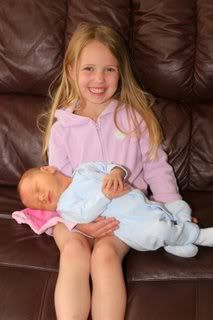 With Micaela: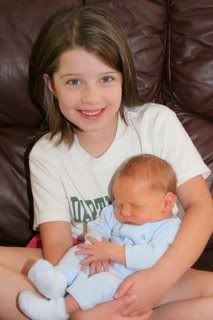 Rachel loves him, too!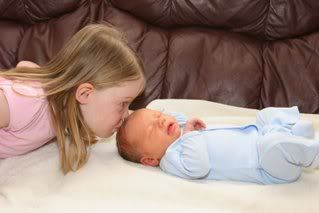 Andrew loves having a brother!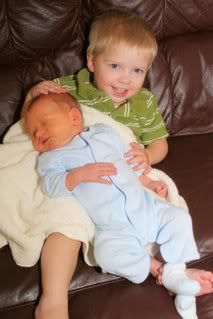 A bit jaundiced, but still cute..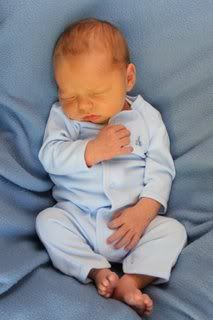 One week old:
Cute little toes!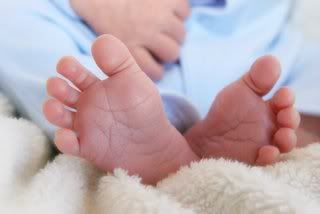 8 days old with Rachel: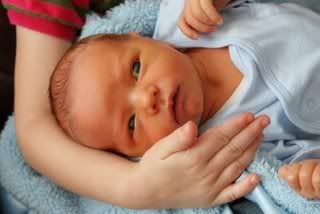 10 days old: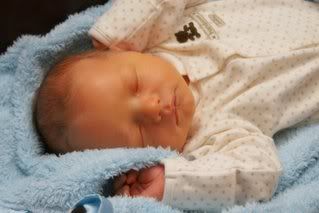 I love this one - cross-eyed!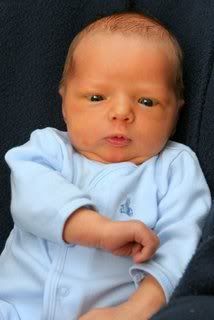 Time flies! I'll be back with another onslaught of pictures soon..
Posted by

Sarah
at 12:19 PM
4 comments: